Sunday June 4, 2017
Best Buzz
Some Party is a newsletter sharing the latest in independent Canadian rock'n'roll, curated more-or-less weekly by Adam White. Each edition explores punk, garage, psych, and otherwise uncategorizable indie rock, drawing lines from proto to post and taking some weird diversions along the way.
I'm amazed that despite the incessant pace of online chatter I can often still recall the singular source where I first heard a band. Music rarely finds me through that nebulous sense of ambient awareness that social media's supposed to provide. Whenever it seems like everyone's talking about a new band, chances are it's not for me. There's a great deal I stumble upon through looking up the openers of shows or digging through the archives of some blog I trust.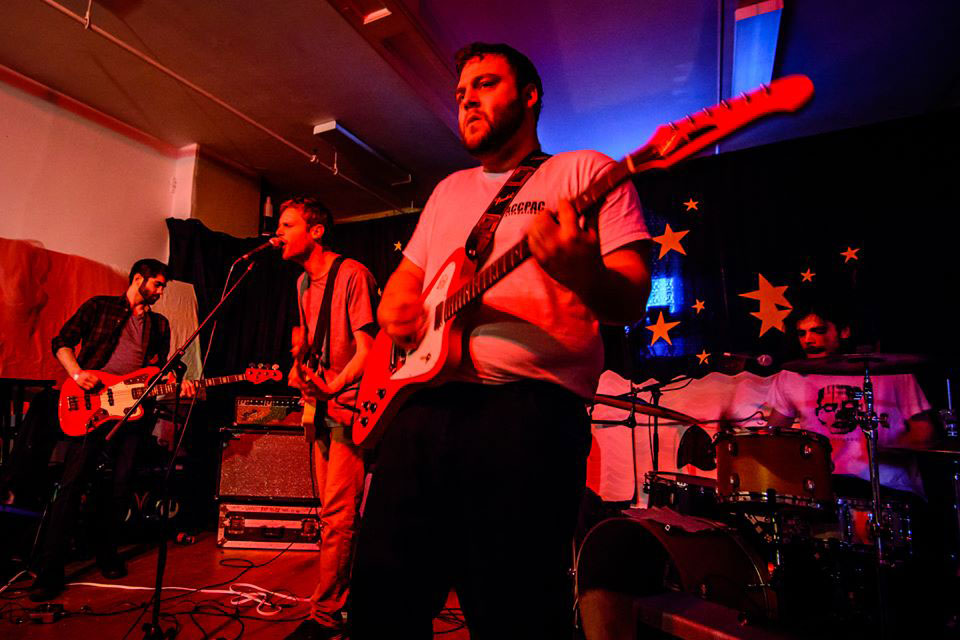 So to give credit where it's due, I first ran into Saint John, New Brunswick's Right Shitty while tearing through the archives of the venerable Weird Canada. Somewhere among that day's sea of obscure tape drones and flowery bilingual prose I ran into a gritty little punk rock band that sounds both familiar yet vital. 2016's full length Bachelor Of Arts (Monopolized) makes the case that there's plenty of gas left in the tank for gruff hardcore of the No Idea Records stripe. Yet unlike the acts that typify that Gainesville label, Right Shitty balances their louder moments not with melodic pop-punk but instead with lo-fi grunge. Pavement's the lazy comparison. I was instantly taken with "Best Buzz," which gallops towards a first-in-the-air chorus that's pretty much cynic proof.
It looks like the fine people of Saint John feel the same. "Best Buzz" and Bachelor of Arts recently took home the top honours for Song and Album at the Best of Saint John Music Awards, thrown by the campus and community radio station Local 107.3FM.
A week prior, I had the opportunity to help the band launch a few new songs at Punknews.org. "Henry Lee Lucas" and "Crack'd Out" land on the heavier end of the spectrum. They're mixed and mastered by Monopolized's Corey Bonnevie and appear in a video by Saint John filmmakers Mike Roy and Nick LeBlanc (the pair recently completed a local music scene documentary titled In the Brick: A Quality Block Party).
I keep thinking about where I found Right Shitty, if for no other reason the band explicitly asked me, and I found that funny at the time. I listed Bachelor of Arts in my year end write-up on Punknews and word somehow got to the group. I absolutely got the sense that, while they were happy for the recognition, they were somewhat surprised I had run into them at all. Credit goes to Weird of course, but I keep thinking about publications like theirs and the service that it provides artists. I've been in the PR-driven news cycle for so long that these more esoteric channels of discovery feel downright magical at times.
Safe Harbour
University of Ottawa law professor Michael Geist provided some commentary this week on a speech by Miranda Mulholland of Great Lake Swimmers and Roaring Girl Records to the Economic Club of Canada. While praising Mulholland's passionate, personal talk Dr. Geist takes some time to unpack the concept of "safe harbours" in the Canadian context. Mulholland and the wider industry (her speech was broadcast by of the trade organization Music Canada) have been making the case that the government should legislate an end to them.
In the States the safe harbor provisions have allowed a user-generated content platform like YouTube to avoid legal responsibility for the uploading of unlicensed content. The service has to either remove infringing content upon request, or provide some form of compensation to the rightsholders, and this keeps matters out of the courts. The industry believes that by forcing Google (and everyone else) to be liable for infringement, ultimately more money for licensing will flow to the artists.
Dr. Geist's angle is interesting in that he attempts to untangle the assumptions on how much of the US safe harbour provisions are actually mirrored in Canadian law. The big surprise for me was that there's no legislated notice-and-takedown style system in Canada at all. Both Dr. Geist's break down of the legal specificities and Mulholland's perspective are absolutely worth your time.
Of Note
Warren Kinsella has previewed a rough cut of a new song titled "GPS" from his self-described "geriatric punk rock group" Shit From Hell. The Toronto-based lawyer and political consultant also has a new novel on the way titled Recipe For Hate in which a band fights a gang of neo-Nazis. I'll have more on that in a future week.
Ottawa's debaucherous garage rock act New Swears continue to tease music from their third LP (and first for Dine Alone), The Magic of Horses. The song "Halos in Hell" premiered over at Ear Milk along with a batch of tour dates supporting the June 23rd release of the record (including a pair of release shows at their hometown pierogi & pinball venue House of TARG, which I'll admit I have a slight obsession with).
Grant Lawrence of The Smugglers will launch Dirty Windows, his new book of tour diaries, with a show at Toronto's legendary Horseshoe Tavern (I can't write that name without prefixing "legendary," as it's been drilled into me for years). The June 16th show will feature Mint Records acts Duotang and Needles//Pins.
This first month of the Some Party newsletter is sponsored by the folks at srcvinyl. You can purchased records online from them at srcvinyl.ca or srcvinyl.com, or in person at 5904 Main St in Niagara Falls and 1695 Queen St West in Toronto.
The Globe and Mail did a big feature on the Windsor, Ontario based Partner, announcing that the five-piece will release In Search of Lost Time on September 8th via You've Changed Records. This all comes with the unveiling of the HUGE pop single "Everybody Knows," which I'll venture is among the hookiest damn songs about weed ever written.
Speaking of which, the Tragically Hip are getting into the medical cannabis business, announcing a partnership with the Brantford based company Newstrike this week. The CBC is also set to rebroadcast the now-famous Kingston Man Machine Poem show, in its entirety, on June 24 (just in case you wanted to cry again).
Toronto's Peeling recently released the EP 7 Years of Blood on Buzz Records. The band's fronted by Mexican Slang's Annabelle Lee and features Dilly Dally bassist Jimmy Tony Rowlinson, Odonis Odonis drummer Denholm Whale, and Golden Dogs guitarist Alejandro Cairncross. A video for the song "Wandering Womb," directed by Lee and shot by Mike Wallace of Preoccupations, was recently premiered over at Noisey.
Finally this week, Hamilton's B.A. Johnston, in a remarkably obvious move that I can't believe hadn't happened sooner, announced the production of Olde B.A. Johnston's Finest Malt Liquor. The iconoclastic singer-songwriter has paired up with Gravenhurst, Ontario's Sawdust City for the brewing expertise. It should be available on June 15th in the Sawdust City taproom and on tap at various bars across Ontario. B.A. will most likely drink it in the alley next to said bars, given that Dude Beer is no longer a thing.